Hey, so my friend, Amy Lou, is opening an awesome DIY/Maker/Classroom/Art space in Somerville, MA called CRAFTWORK SOMERVILLE; and she asked me to teach Knitting 101!
Since new knitters like a project they can show off with their brand new skills, I created a new beginner pattern for you to try.
I would like to introduce you to Craftwork The Octopus.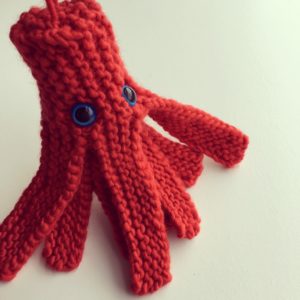 It's a sweet little octopus to help people learn how to Cast On and Bind Off fearlessly. Knitters are always worried that they are working their stitches too tightly or loosely, and this project lets you do either and the results are that the tentacles simply curve and sway making your octopus look unique.
Practice, practice, practice.
And it's a free knitting pattern for you to try.