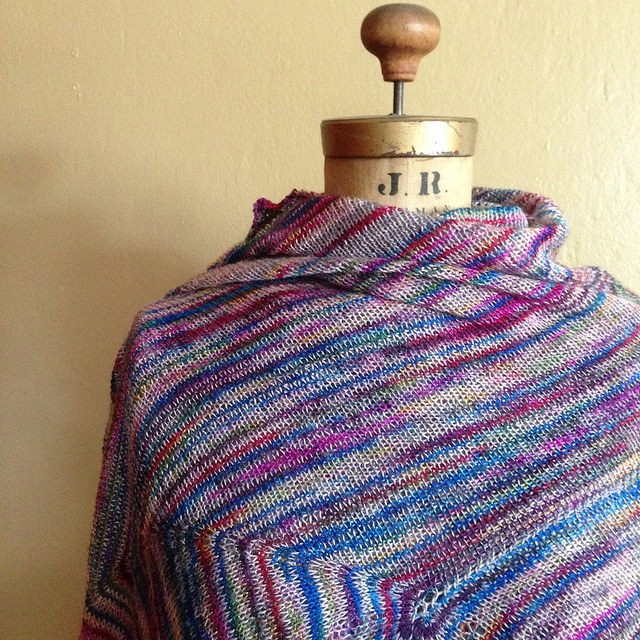 Living the knitter's dream, I went to Rhinebeck in 2013 bought some Miss Babs "Babette" lace. One skein – ALL my favorite colors.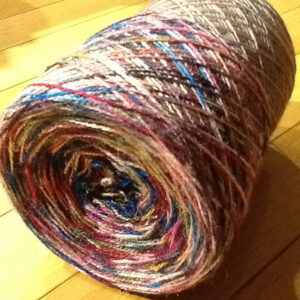 That's Miss Babs in the front, and Tosh lace color "calligraphy" in the back.
"Gorgeous, so what do I knit with it?" I thought. Never did much with laceweight before. Did the old Ravelry search and came up with Martina Behm's Nuvem. It's pretty, no lacework that I'd have to pay attention to 'cuz if I'm knitting 2000 yards of something I don't want to have to pay attention to it, count, or anything requiring intelligence – this is what my day job is for. ("OCD for Dollars" is how I refer to it, and I sure don't need the extra brain hurt for my hobby.)
The idea behind the Nuvem is you knit 'til there's 20% of your yarn left and then do the ruffle. This kind of blew my mind… that 20% of the yarn is in the ruffle. That's like a country mile around the perimeter when you think you're almost done.
Though I had the same weight each of Babs and Tosh it turns out the Tosh is thicker with less yardage. I did some rough math and figured I have about TWICE as much yardage of Babs as I do Tosh.  I needed to go around twice on the Babs for each time I went around once on the Tosh to make it work.
Pattern purchased, off I went… one round Tosh, two rounds Babs, one Tosh, two Babs.
I liked it, but it was too uniform for my taste to do the entire shawl this way. About 5 inches of knitting from the center out I decided to change it up, but I needed a way to maintain the one-Tosh::two-Babs ratio so I didn't run out of one or the other color before I got to the ruffle. I wanted the same ratio with a different more organic distribution.
Hmmm.
Walked around my place, stood for a moment staring at my humble board game collection. And there they were… a deck of red cards and a deck of blue cards.
52 red cards mixed with 26 blue cards, shuffled roughly together, would give me an approximate model of my yarn amounts,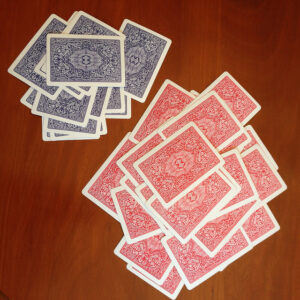 with a more organic looking distribution than how I started out in the center.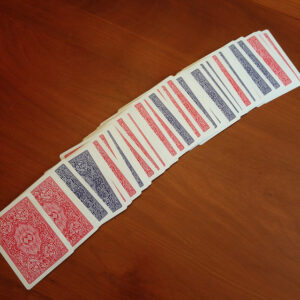 2::1, right? yep.
I commited to this progression. I wrapped an elastic band around the cards to secure them, and threw the deck into my project bag. When a red card came to the top of the deck I would knit a round with Babs. When a blue card came to the top I would knit a round with Tosh.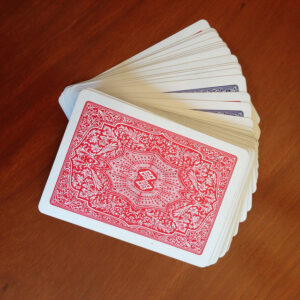 I made it through the 78 (52 + 26) rounds and still hadn't gotten to my 20% left. Figuring I wanted the colorful Babs for the ruffle I did a simple large swath of the Tosh "calligraphy" color to set off the ruffle.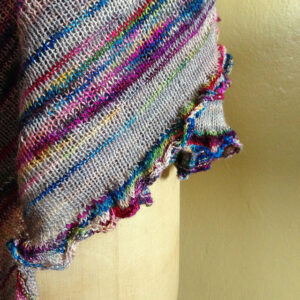 I kind of love how it came out.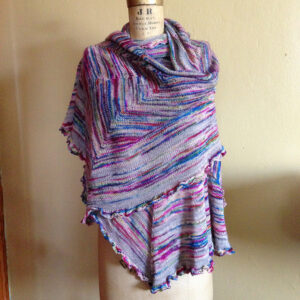 And about that 20%. I used a $3 postal scale that I bought off ebay on a recommendation that I got from a knitter friend who also quite enjoys smoking pot, and, I learned, she can evidently use the postal scale for either hobby as both often need accurate measurements of quantities less than 4 ounces.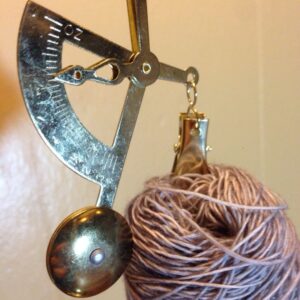 I had previously only understood that this scale was good for measuring envelopes and yarn, it took another savvy knitter to explain to me what most people use this little gadget for and why they are so readily available on the internet.
So there's that.
Anywho, live and learn.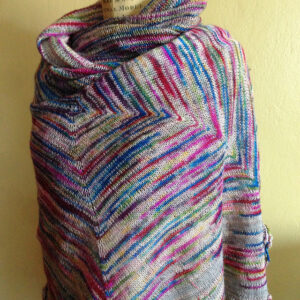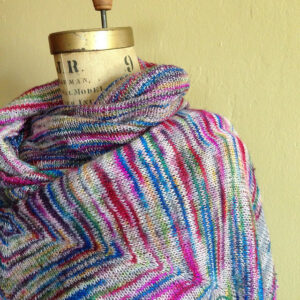 Nuvem means cloud in Portuguese. That's truly what it feels like to wear.
thanks for reading.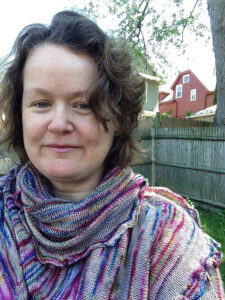 P.S. So get this, still living the knitter's dream I've been lucky enough to attend a few Squam Art Workshops, including this last one in Spring 2014. Turns out I finished this Nuvem in the nick of time to give the designer of this lovely pattern a lift up to New Hampshire from the airport. Turns out she's lovely too.
Here's me and my Hitchhiker, Martina Behm, returning from N.H.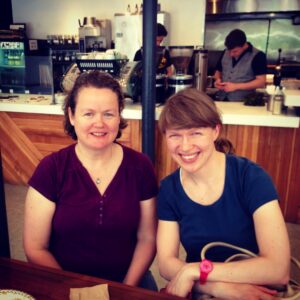 Click here for a link to Martina's post about her own Squam experience.
be well. – H